Simcenter PreScan Software
Simcenter PreScan enables the development of virtual verification of advanced driver assistance systems (ADAS) and autonomous vehicles. Using PreScan, users can follow a systematic development approach that shortens feedback loops and adaptation cycles while covering a variety of possible scenarios.
Easily Harness The Power Of Simulation
With Simcenter PreScan, engineers can virtually validate ADAS and autonomous vehicle systems in five steps:
First, they can leverage elements of the Simcenter PreScan database, including roads, infrastructure components, actors, weather and light sources, through the GUI or using APIs to replicate real-life traffic scenarios in minutes.
Then, they can add sensor models. The software can connect to autonomous vehicles to test interactions between the vehicle and its surroundings.
Next, Simcenter PreScan's control system interface can be used to design and verify algorithms for data processing, sensor fusion, decision-making, and control.
With all this data, engineers can run experiments, which can be completed across multiple operating systems and platforms.
Finally, to cover the required verification space, they can use our orchestration to automate intelligent parameter changes to roads, paths, motions, speed profiles, lighting conditions, weather phenomena, sensor configurations, algorithms, and more.

Simcenter PreScan is a set of automotive ADAS (Advanced Driving Assistance) and autonomous driving simulation software that supports the development and testing of systems and algorithms. It provides in-the-loop integrated testing solutions for HiL hardware, including simulation tools such as lidar, cameras, and millimeter waves. It can shorten test time, save R&D costs, improve system performance and other effects.
Scene Modeling
    Modeling through GUI graphical interface and model library
    1. Roads
    2. Environment
    3. Road Users
    4. Weather & Lights
Modeling via DMAPI and scripting programs
    1. Matlab interface
    2. Python interface
    3. C++ interface
Import modeling through external scene data
    1. OpenDRIVE 1.4/1.5/1.6 – high-precision map data
    2. OpenSCENARIO 1.0/1.1 – scene data
    3. GIDAS/CIDAS – Germany/China traffic accident data
    4. OSM-Open Street Map – map data
    5. KITTI – scene data
    6. IBEO Data IBEO – lidar scan data
    7. Import 3D appearance models, .DAE, .FBX, .OBJ, etc.
Sensor modeling
    1. Camera, fisheye, mono, stereo
    2. Radar
    3. Laser and lidar
    4. Ultrasonic
    5. V2X sensors
    6. Ground truth Sensor
    7. Physics based Sensor
Automatic driving algorithm concatenation and integration
    Model in the Loop MiL is compatible with a variety of autonomous driving algorithm platforms, such as Matlab/simulink, C/C++, ROS, AutoWare, Apollo, etc.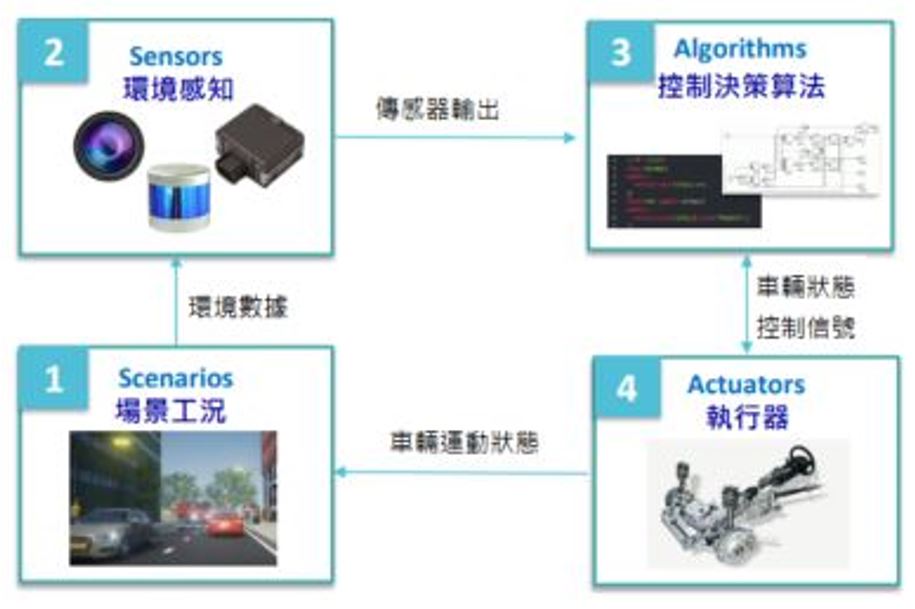 Vehicle actuator modeling
Scenario model
    MiL algorithm-in-the-loop, SiL software-in-the-loop, HiL hardware-in-the-loop, RT real-time, cloud simulation
PreScan is a tool for autonomous driving system simulation, first developed and commercialized by the Dutch company TASS International. The commercialization of PreScan first started in 2011 and has a history of more than ten years until TASS International was acquired by Siemens in 2017.
PreScan is the world's most mature, earliest commercialized, and most technologically advanced autonomous driving digital twin tool. After being acquired by Siemens, PreScan has been able to directly connect to other Siemens simulation tools, such as:
    1. In 2017, Siemens also completed the acquisition of Mentor. Mentor is not only a global giant in the field of EDA, but also a leader in digital tools for software life cycle management ALM. It is an important digital tool for our company when facing the wave of software-defined cars. The connection between PreScan and the ALM software life cycle management tool directly exports the system functional requirements and software requirements through the requirements management tool and executes them in the PreScan simulation test environment. The results of PreScan test optimization and improvement can be directly mapped to Software version management.
    2. In terms of vehicle dynamics tools, Siemens has the AMESim system simulation tool. As the world's most sophisticated chassis dynamics tool, it can now be directly connected to PreScan.
    3. Autonomous driving requires a large number of test conditions. Siemens also has an AI-based scene creation, search, and optimization tool HEEDS, which is directly connected to PreScan.
    4. Siemens has an autonomous driving road data collection solution—SCAPTOR, which can collect road data, extract key scenes, model them, and then import them into PreScan to increase the richness of the test scene library.
    5. Siemens' enterprise-level platform and data management tool Teamcenter is one of the best enterprise-level data management tools in the industry. Regardless of the massive test cases, demand management, or software version optimization just mentioned, it can be directly connected to the Siemens Teamcenter data management platform.
In terms of consulting and supporting services, Siemens has a closed test site for autonomous driving and a test site that meets standard certifications. For companies that need to develop autonomous driving on their own, we can assist in the establishment of a digital R&D process for autonomous driving.
In recent years, technology companies and Internet companies have entered the field of autonomous driving. In order to meet the needs of these customers, PreScan has evolved from the previous simulation tool based on graphical and interface operations to one based on API interfaces and coded operations. function. Moreover, Prescan has very good format compatibility with scene data including OpenX format. In addition, PreScan also has excellent compatibility with multiple cloud platforms. Some public business cooperation cases, such as: Microsoft Azure, Amazon AWS compatibility, and the compatibility of some cloud service providers, cloud platforms, and engineering companies' private cloud platforms in mainland China are some successful cases. In the field of RT (Real time) real-time, we also strive to be compatible with mainstream real-time computing platforms and continue to optimize.